Town News
Town of Lunenburg Releases 2022 Prospectus
Details

Published: Wednesday, 12 January 2022 16:27
January 12, 2022 -- The Town of Lunenburg has released a 2022 Prospectus to inform and encourage potential businesses and residents to locate in our beautiful town.
The Prospectus is a living document that highlights the unique characteristics and vitality of the Town, with the aim of attracting investment, development and business opportunities that benefit us all. The document outlines:
Town of Lunenburg Launches Online Zoning Look-up Map
Details

Published: Monday, 10 January 2022 13:28
The Town of Lunenburg's Planning team has been developing digital mapping capabilities to support our residents and businesses in their land use needs.
An online tool has been developed to assist the public in finding what zone(s) applies to their property under the three-layer lot/form/use designations in our innovative new Land Use Bylaw.
Sign up for Finance e-Services
Details

Published: Thursday, 16 December 2021 08:00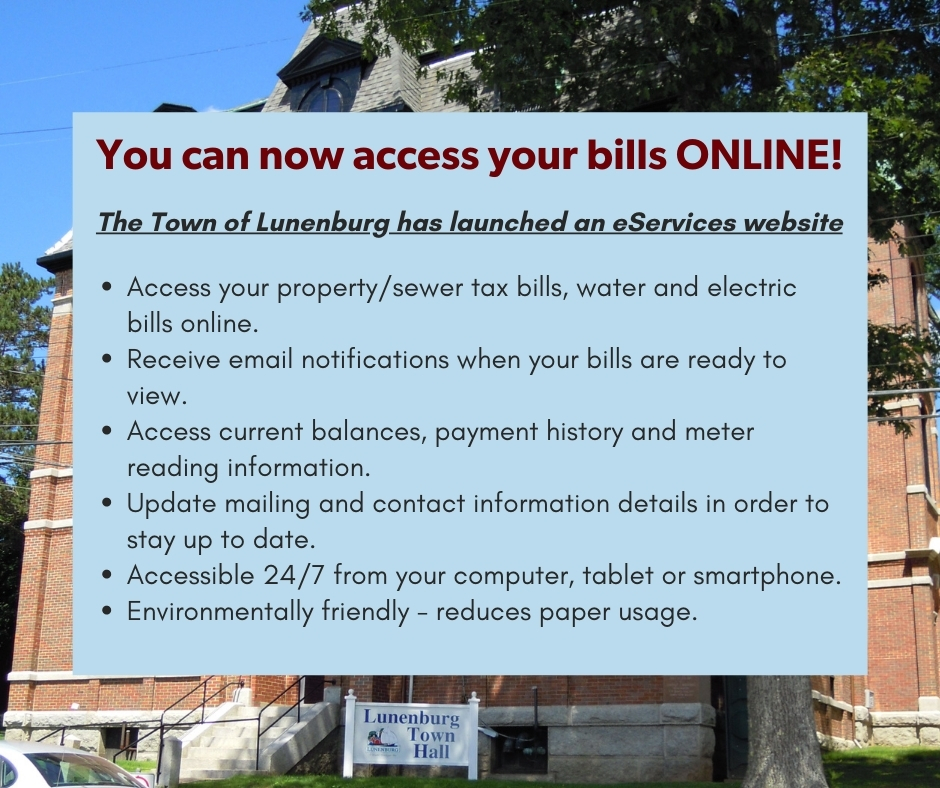 Click "Read More" for text version and links.
Winter Parking Advisory 2021-22
Details

Published: Wednesday, 08 December 2021 12:32
Please help us keep Town streets free of ice and snow by ensuring your vehicle is parked off-street during winter storm and snow removal operations. The Public Works Department can do the job more efficiently if your vehicles are not left on the street during this time. Please arrange off-street parking locations during snow clearing and salting operations. The Town of Lunenburg operates several parking lots where overnight (5:00 p.m. - 8:00 a.m.) parking is permitted for a fee ($26.25/month + HST). Parking passes may be purchased at the Lunenburg Town Hall, 119 Cumberland Street (902-634-4410).
Residents and businesses are also reminded to keep sidewalks clear of furniture or other obstacles that may block the sidewalk plow.
In the Town of Lunenburg the RCMP enforce the Nova Scotia Motor Vehicle Act winter parking ban which:
Project Lunenburg wins 2021 API Award
Details

Published: Wednesday, 17 November 2021 12:34
The Town of Lunenburg's Project Lunenburg/Comprehensive Community Plan project has won an award in the category of "Comprehensive Policies and Plans" at the 2021 Atlantic Planners Institute Awards of Excellence.
https://atlanticplanners.org/news/winners-announced-2021-api-awards-for-planning-excellence/
The Awards of Excellence honour the best in professional planning projects undertaken by members across Atlantic Canada, and were given out in four categories. The award was given to UPLAND Planning + Design on behalf of the Town.
Congratulations to the Project Lunenburg Steering Team, UPLAND, and all of you who contributed to the project.
Chief Administrative Officer/Town Clerk News
Details

Published: Tuesday, 09 November 2021 16:18
Bea Renton, the Town of Lunenburg's CAO/Clerk, retires as of November 9, 2021. She has most ably served the citizens of Lunenburg for many years, and along the way participated in the revitalization of the waterfront, the UNESCO designation, and most recently Project Lunenburg implementation. She has served on numerous Provincial and Municipal committees to assist in drafting and updating significant legislation including the Municipal Government Act, Municipal Elections Act, model Municipal Bylaws and Policies, and others. Her many accolades include Dalhousie's Guy Hanson Gold Medal in Public Administration, and Screen Nova Scotia's Community Recognition Award for her film and TV industry support. Bea's dedication to the Town has been extraordinary and we thank her warmly for her years of service and wish her well in retirement.
Stepping in temporarily as Interim CEO/Clerk is Kevin Malloy, who retired as the CAO of the Municipality of the District of Lunenburg (MODL) in 2019. Kevin was CEO of Housing Nova Scotia and Deputy Minister of Service Nova Scotia prior to his time at MODL. Lunenburg continues to be in good hands as Town Council completes the recruitment process for a permanent CAO.
Lunenburg Plans for Upgraded Wastewater Treatment
Details

Published: Monday, 18 October 2021 12:30
The Town of Lunenburg is proceeding with a phased plan for comprehensive upgrades to its Wastewater Treatment Plant (WWTP) and system.
Town Council's decision was based on findings from extensive engineering and water studies over the past three years by CBCL Ltd., Dillon Consulting Ltd., and Dalhousie University's Centre for Water Resource Studies.
CBCL's final recommended Implementation Plan was presented to Council on September 28, 2021 and approved. Funding opportunities from all levels of government will be pursued.
Town of Lunenburg Opens Opportunities for Development
Details

Published: Wednesday, 22 September 2021 08:50
September 22, 2021 – The Town of Lunenburg's innovative new Municipal Planning Strategy, Land Use Bylaw, and Subdivision Bylaw came into effect today.
These new regulations present an exciting and ground-breaking approach to planning in Atlantic Canada. Planning documents are the Town's strongest tool to address many community issues. According to Mayor Matt Risser, "The main way that we as a municipality can address concerns around issues like housing is through more permissive planning and development regulations. The new planning approach simplifies our processes to encourage much-needed new development in Lunenburg."
Depots for Household Waste Disposal
Details

Published: Tuesday, 24 September 2019 11:52
BEFORE dropping off residential household hazardous waste, please CHECK what materials a depot can take.
Kaizer Meadow
The Town of Lunenburg disposes of residential curbside waste at Kaizer Meadow Environmental Management Centre, 450 Kaizer Meadow Road along Highway 14 in Lunenburg County.
They also have a residential Household Hazardous Waste drop-off at their location in the Municipality of Chester.
Please call 902-275-2330 or visit Waste & Recycling ahead of time to check if Kaizer Meadow can take what you want to dispose of.