Town News
Mayor's Monthly Update - September, 2023
Details

Published: Thursday, 28 September 2023 16:05
Please click here here to read the latest Mayor's Monthly Update
National Day of Truth and Reconciliation
Details

Published: Thursday, 28 September 2023 14:59
Town Hall will be closed Monday, October 02 to recongize National Day of Truth and Reconciliation.
The day honours the children who never returned home and Survivors of residential schools, as well as their families and communities. Public commemoration of the tragic and painful history and ongoing impacts of residential schools is a vital component of the reconciliation process.
Wear orange
Both the National Day for Truth and Reconciliation and Orange Shirt Day take place on September 30.
Orange Shirt Day is an Indigenous-led grassroots commemorative day intended to raise awareness of the individual, family and community inter-generational impacts of residential schools, and to promote the concept of "Every Child Matters". The orange shirt is a symbol of the stripping away of culture, freedom and self-esteem experienced by Indigenous children over generations.
On September 30, we encourage everyone to wear orange to honour the thousands of Survivors of residential schools.
To learn more, please visit: National Day for Truth and Reconciliation
Employment Opportunity
Details

Published: Monday, 25 September 2023 10:39
COMMUNITY DEVELOPMENT DEPARTMENT – ECONOMIC DEVELOPMENT OFFICER
For full job description - please click here.
Jamie Myra Sworn in as New Mayor
Details

Published: Wednesday, 13 September 2023 10:51
A hearty welcome to the new Chief Magistrate of the Town of Lunenburg, His Worship, Jamie Myra!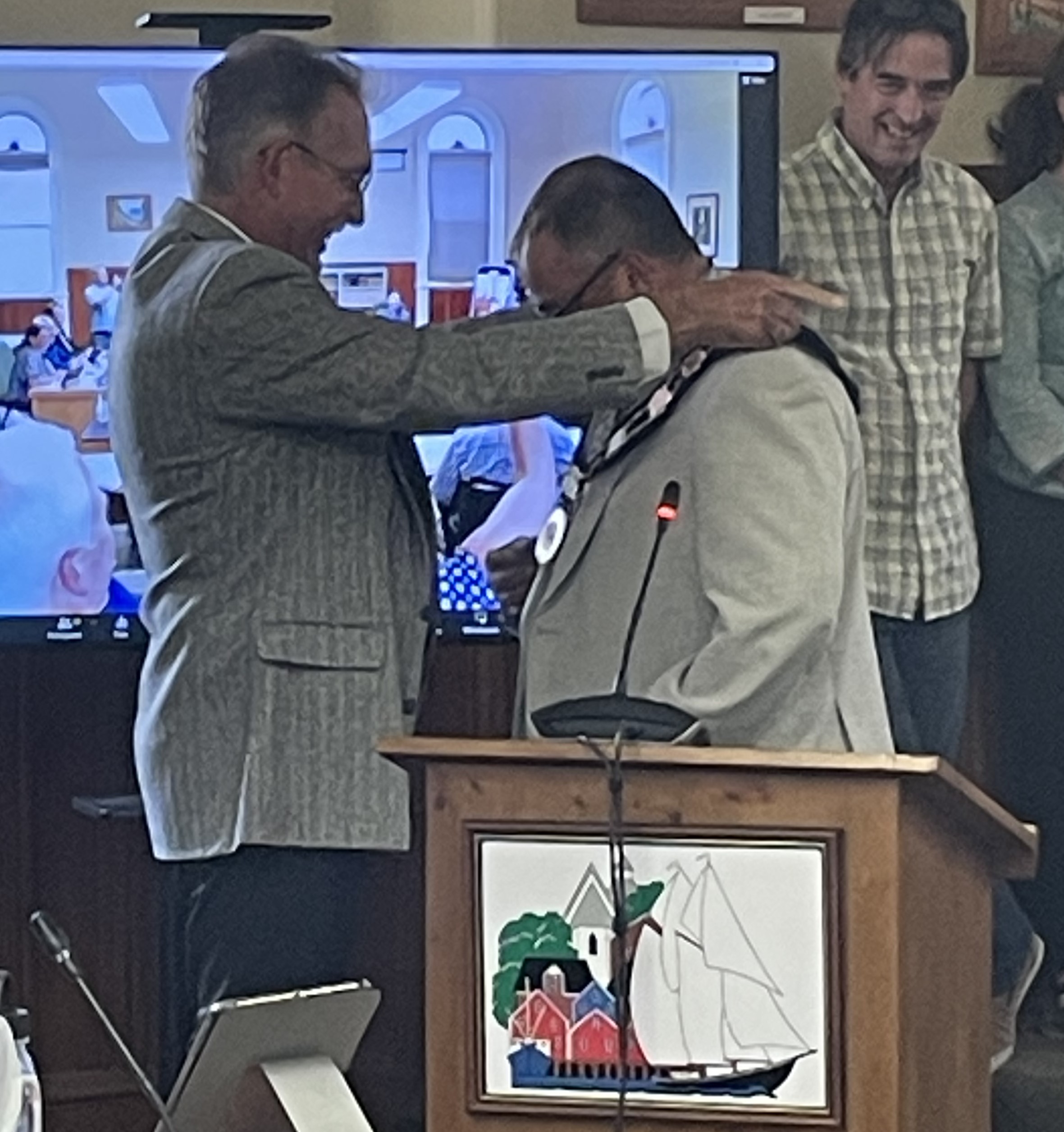 Lunenburg Named as First Site For Health Care Worker Housing
Details

Published: Monday, 11 September 2023 12:21
Healthcare workers in search of housing on the South Shore will soon have a new place to call home.

Today, September 11, the Province announced it has purchased the former Wheelhouse Motel in Lunenburg to be converted into mixed-income housing for healthcare workers.

The site will include 10 to 12 one-bedroom units plus six townhouses suitable for families. This is the first site under the $20-million housing for healthcare investment announced earlier this year.

"We made a promise to Nova Scotians that we would deliver more housing options for healthcare workers in communities that need it the most, and today we are delivering on our promise," said Municipal Affairs and Housing Minister John Lohr. "These sites are close to healthcare facilities and amenities and will ensure healthcare workers have housing options available so they can deliver critical health services to our communities."

The Housing Trust of Nova Scotia is administering funding and managing logistics for the housing for healthcare initiative. The Lunenburg site is in the design phase, and contractors and other suppliers have yet to be selected. More details will be released soon.

Through consultations with stakeholders and other government departments, the South Shore was identified as a region in acute need of housing for healthcare professionals. Others include Sydney, Cumberland, Antigonish, Guysborough, Inverness and Colchester.

The total investment for the first phase of this project is $4.7 million - $1.5 million for purchase, $1.4 million for renovations and $1.8 million for six modular townhouses.

Quotes:
"We need more professionals for our healthcare system and that means attracting people from across Canada and around the world to our province. Having available housing in places outside Halifax Regional Municipality is key to attracting much-needed staff and keeping them here."
- Michelle Thompson, Minister of Health and Wellness

"The Housing Trust is pleased to be a partner on this initiative that will address two pressing social issues - the shortage of housing for healthcare and other skilled workers, and the availability of affordable housing for working households. Our residents are diverse; however, our primary focus is on providing housing options for low- and moderate-income working households and in this program, creating places that will help retain important members of the workforce in communities throughout Nova Scotia."
- Angela Bishop, Executive Director, Housing Trust of Nova Scotia

Quick Facts:
-- healthcare workers will be given priority to rent the units at the Lunenburg site; if there are vacancies, skilled trades professionals will also be given priority
-- rent will be based on income and units will not sit vacant
-- in January, the Province announced 65 continuing care assistants from Kenya received conditional job offers to come to Nova Scotia
-- Nova Scotia recently launched a new orientation program that will help welcome and settle 140 doctors trained outside of Canada over the next three years